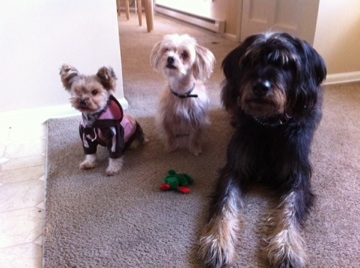 Meet my motley crew; Melody, Moby, and Zoe.
I have many years of experience working on a volunteer basis doing what came naturally – relating with dogs. I especially enjoy working with the extremely timid. Trust is a terrible thing to waste! I can thank two of my rescued Pit Bull angels, Chapin and Olive, for teaching me a lot of patience while exemplifying unconditional love and respect as we learned about one another. I worked for many years in Palm Springs, California, as a dog trainer, behaviorist, counselor (to the humans!) and instructing in beginning agility. I mentored with two of the best trainers in the Coachella Valley prior to going into business for myself. A passion is playing match-maker to shelter and foster dogs in pairing them with their new families.
After moving to Seattle to work at a large board-and-train facility, I have returned to Palm Springs.  My favorite aspect of training is to see the confidence of the people as their dogs respond. Most dogs are just waiting for the human to give them guidance. I give guidance to humans. We are ALWAYS training our dogs – the question is, "what?" I use a positive approach with mutual respect conditioning and provide guidance in a humorous and fun way.