Discover How Easy It Is

To Housebreak Any Dog
~From puppy to senior and from toy to giant you can have success~

As with any "good" behavior, repetition is the key to mastery.
Believe it or not – this applies to you and your dog! You can housebreak any dog…truthfully!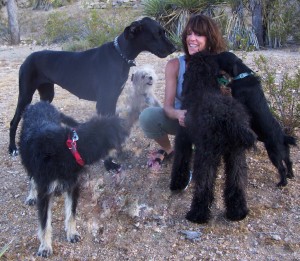 | | |
| --- | --- |
| | Audio clip: Adobe Flash Player (version 9 or above) is required to play this audio clip. Download the latest version here. You also need to have JavaScript enabled in your browser. |
I don't need to tell you why to housebreak your dog…
I don't need to tell you the history of dogs…
I do need to tell you that starting today you can housebreak your dog!

You Need This Book If:
You or someone you know are considering or already have a new a puppy.
You or someone you know are considering or already have adopted an older dog.
You say the words in justification, "they are mostly housebroken."
You've ever said, "they're a little dog, it doesn't really matter."
You decide that all of the beautiful throw rugs have to go because tile is easier to clean.
You want to get a dog from a rescue but what if it's not housebroken.
You have thoughts like "I think my dog is hopeless."
If you've secretly thought, "If I don't get this dog housebroken, I can't keep them."
You remember housebreaking as being so easy and now you don't know what you're doing!
You get a dog and previously you've only had cats.
TESTIMONY
"The Truth About Housebreaking" had me tossing out all the other dog training books I'd bought. Before we got our GoldenDoodle puppy, I bought several books on housebreaking and training your dog. None compared to "The Truth About Housebreaking". This book tells it like it is in a simple, easy to understand way with an added dose of good humor. it's almost as if the author is talking directly to you. I wholeheartedly recommend this book to anyone struggling with or just beginning to housebreak their dog.
Lee Borkan
Seattle, WA
There is hope and a solution!
Your dog is waiting for your guidance, acceptance, and praise.

That's Why I Wrote:
The Truth About Housebreaking
An easy-to-follow lesson book revealing exactly how to achieve the "sweet smell of success" that you deserve to come home to every day.

Sample what's inside!
Table of Contents and Page 17.

This 40-page concisely-written guide gets right to the point and stays there.

Written in a conversational tone, it is easy to understand and designed so you can go directly to the topic you need.

TESTIMONY
"The Truth About Housebreaking" is the most concise and user friendly potty training book I have ever read. It's entertaining, too! As a professional pet sitter, I have many clients who would have greatly benefited from the information in this book. I will be recommending this book, along with it's companion book "Crate Training Facts" to all of my clients and dog loving friends.
Susan Brown
New Leash on Life Pet Care
Chandler, AZ

The Truth About Housebreaking
is the fastest and easiest way to housebreak ANY dog – puppy to senior.
Here's just some of what you'll discover when you download your copy…
The #1 Rule for Housebreaking Success.
The Theory of Exercise, Socialization and Housebreaking.
What causes submissive or spontaneous urination and why it is not a housebreaking issue.
The importance of Planning for Success!
Housebreaking and the use of pee pads.
Why dogs eat their poop and how to stop them.
Marking problems and how to eliminate them.
Dealing with Frustration – Threats – Spite.
Housebreaking Using a Dog Door.
And more.
Plus! I have included a Quick Reference Guide. It can be used along with the step-by-step Daily Housebreaking Schedule – convenient when there is more than one human in charge of housebreaking (or for those who don't want anything but the facts!)
And just to make sure that you and your dog get off to a good start, I'm including a FREE copy of my Crate Training Facts e-book that explains everything you need to know about crate training and why it's the #1 housebreaking, safety and security tool for your dog.
Other than the easy-to-follow guidance and absolute success formula of both books, the best part is the price – Only $7.95! What you're getting:
The Truth About Housebreaking e-book


Crate Training Facts e-book

A Quick Reference Guide

Daily Schedule

to follow and keep everyone on track.
Immediate Download! (That means no waiting, no more confusion, a smile on your face, and a new-found tail wag!)


TESTIMONY
"The Truth About Housebreaking"…Finally, a short, concise, extremely well-written, user-friendly instruction resource for house training a puppy. We NEEDED this bringing TWO Black Standard Poodle puppies into our home together…brother and sister at 8 weeks old. Without this resource to read quickly and use as a reminder…sometimes minute by minute…we wouldn't have made it without suffering apoplexy! The whole picture unfolds in minutes of reading this wonderful pet housebreaking guide. The intertwined humor was a bonus!
Fred and Dolly McMaster
(Schatzi and Stoli – our well-trained/housebroken Standard Poodles)

Look forward to seeing your dog every day! No surprises, no hesitation to walk in the door, no more frustration with what you're doing wrong. . .only the pleasure of enjoying your dog. Discover how easy it is to go from wondering about to knowing The Truth About Housebreaking.
Before being directed to the Order Page, please enter your name and email information below. You will receive information on my blog, weekly training tips, fun dog stories, updates on book releases, and more! I will never share your information and you may opt-out at any time.
After you select the "submit" button, go to your email. A message will arrive to confirm your request for information. Click on the link below the words: "Confirm by visiting the link below:". This will take you to the Sales Order Page.
Happy Housebreaking!
Gayle Cousineau
Author
Please feel free to email me:
divadogtraining@gmail.com
divadogtraining.com/blog